🟢25 KB Swings 🟢15 Back Rolls to candlestick to sit-up and shoulder press 🟢25 RDL 🟢15 SB Oblique Crunches per side (left and right) 🟢15 KB Swings to Cleans
Workout ANYTIME, ANYWHERE!   My online programs are designed around my personal workouts. In every video I incorporate modifications of exercises for those of you that are just starting to
Workout ANYTIME, ANYWHERE!   My online programs are designed around my personal workouts. In every video I incorporate modifications of exercises for those of you that are just starting to
Has it been a while since you worked out regularly?Maybe now you're wondering how to start exercising (or start-up again) when you haven't followed a training program for a while.
We're three weeks into 2020 and chances are that one of your resolutions involved working out or exercising. But, it's important to ask yourself something when setting a goal—
Email Newsletter
Subscribe to my monthly email newsletter to stay up to date with the latest news, articles, and workouts from FitnessWithAna.com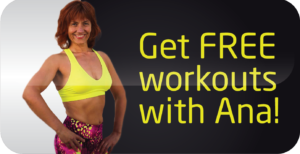 Sign-up to receive 15 days of 15-minute workouts right to your inbox!