Project Description
Has it been a while since you worked out regularly?Maybe now you're wondering how to start exercising (or start-up again) when you haven't followed a training program for a while.
We're three weeks into 2020 and chances are that one of your resolutions involved working out or exercising. But, it's important to ask yourself something when setting a goal—
All of your runs should start with a warmup and end with a cool-down. These two bookends to your run will help you prepare for your best effort and
If you're struggling to find the motivation to get to exercise, allow these seven reasons to inspire you to get moving…Exercise Because —Disease Can't Handle ItTrue, there are diseases that
After surgery to the hip, knee, ankle or foot, the muscles of the leg often become weak from decreased use or from inhibition due to pain. For this reason, it is important
Load More Posts
Email Newsletter
Subscribe to my monthly email newsletter to stay up to date with the latest news, articles, and workouts from FitnessWithAna.com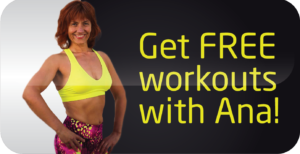 Sign-up to receive 15 days of 15-minute workouts right to your inbox!